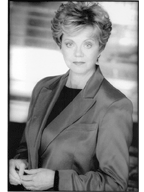 Janet Carroll, Film, Television, Recording and Stage star whose acting and musical repertoire spans myriad and diverse roles was classically trained in every area of performance art in hometown Chicago. Notably, dozens of legitimate stage productions and more dozens of Broadway musical leading roles.


Janet's first feature film proved to be a big break, playing Tom Cruise's Mom in the classic Risky Business. Many other features have shown her in a wide variety of roles including: Sidney Lumet's Family Business with Sean Connery, Dustin Hoffman and Matthew Broderick, The Killing Time with Kiefer Sutherland and Beau Bridges, Talent For the Game with Edward James Olmos and Lorraine Braccho, Memories Of Me with Billy Crystal and Alan King, Born To Be Wild with Peter Boyle and Alan Ruck, Destiny Turns On The Radio with Quentin Tarantino, James Belushi and Dylan McDermott, TimeMaster, The Platinum Triangle and Secret Admirer with C. Thomas Howell. Other feature films are The Omega Code w/Michael York, Dreamworks hit Forces Of Nature in which Janet played opposite Ben Affleck and Sandra Bullock and Ugly Naked People with Henry Winkler. Janet's soon-to-be-released feature film All You Need finds her in her most challenging film role thus far. The sympathetic heroine she portrays, Jane Sabistan, is both a lovely and refined wife and mother suffering from the torment of an uncontrollable, debilitating disease. A performance not to be missed! Director Michael Apted's recent thriller Enough! features Janet with Jennifer Lopez and Billy Campbell. Colored Eggs costarring Faye Dunaway, Lauren Holly, Tom Skerritt had its world premiere in Nashville in June. Sweet Little Lies and The Marriage Undone out soon.


Janet has played an incredible range of television characters. For ten years she recurred simultaneously on Murphy Brown as Doris Dial, on Melrose Place as the troublesome Marian Shaw and on Married With Children as Al's boss, Gary. Others: Comedy Channel's Frank Leaves For The Orient as Frank's Mom, as Carroll Danzig on The Bronx Zoo. Most recently she recurs as Helen on CBS's Still Standing. She was Mrs. Halloway on FOX's Time Of Your Life. As a series regular she was seen on The Bonnie Hunt Show as the dreaded Diane Fulton; on NBC's I Gave At The Office, CBS's Hat Squad, Showtime's The Boys, CBS's Double Dare and with Brad Pitt on Glory Days.


A few of her noted guest star appearances have been as Richard Fish's Mother, Ellen, on Ally McBeal, Judging Amy, Third Rock From The Sun's 100th episode, 7th Heaven, Cupid, Mad About You, Touched By An Angel, Maggie, Life Goes On, Golden Girls, Quantum Leap, Boy Meets World, Coach, L.A. Law, Matlock, Hill Street Blues and The Jeff Foxworthy Show and Dead Last. Current TV commercials include Outback Steakhouse, Century 21, Diet Coke and the SAG awarded Holiday Inn spots to name a few.


Janet's television Movies-Of-The-Week include: ABC's Betrayed: A Story Of Three Women, NBC's Daughters Of Privilege, CBS's When He's Not A Stranger, NBC's Good Enough To Win, CBS's Samaritan: The Mitch Snyder Story, ABC's Bluffing It and Right of the People, CBS's Sharing Richard, One Special Victory and Getting Physical.


Janet won L.A.'s coveted Drama-Logue Award for Outstanding Achievement In Theatre as Klytemnestra in Ezra Pound's Elektra. She created the role of Dorothea in Nancy Shayne's new musical comedy, Two Bitter Women In A Coffee Shop, which was featured at HBO's Aspen comedy festival and had its second Off-Broadway reading in October of 2000. Janet's musical stage career includes leading roles in Mame, Gypsy, Hello Dolly!, Showboat, South Pacific, Pajama Game, Damn Yankees, West Side Story, Kismet, On A Clear Day, Carousel, The Sound Of Music, The Unsinkable Molly Brown, Peter Pan, The Boyfriend, Annie Get Your Gun, My Fair Lady, and Funny Girl (just to name a few). Janet appeared in eight major musicals every summer for five seasons as Resident Actress at Kansas City's Starlight Theatre. She has performed in innumerable dramatic stage productions, voice-overs, educational films and live convention, trade and industrial shows and hosted her own tv talk show.


Janet's VOICE! Janet Carroll was the Best Entertainer at the Sacramento Jazz Festival. She tore the joint down! (Herb Caen, San Francisco Chronicle) Throughout her career she has always found time to sing, loving especially traditional jazz, the blues, and classic ballads or The Great American Songbook. She continues to study with her classical coach today. Since 1982 Janet (accompanied by her seven piece swing and jazz band) has performed at jazz festivals throughout the United States and Canada, such as Victoria and Vancouver in British Columbia, Monterey, Los Angeles' Classic and Sweet N Hot, Newport Beach, Catalina Island, New Orleans, along with USO shows, the Palmer House in Chicago, the Fountainblue Hotel in Florida, Ritz Carlton Hotels, the Biltmore Hotel, the River Walk in San Antonio and many performing art centers. Janet was the recipient of the Best Vocalist Award from the Redding Jazz Festival and is given rave reviews for her one-woman concert and cabaret appearances. Her fourth album/CD will be A Tribute To The Great Ladies of Song!


Janet is the Artistic Director of The Jazz Series at Simi Valley's Cultural Arts Center, which features some of the greatest names and legends in the jazz world today, as well as the most promising young artists from the community. Janet is a V.P. on the Executive Board Of Directors of The Society of Singers and is founder and co-chair of The Victory Ball in Westport, CT. annually benefiting the ALS Foundation (Lou Gehrig's Disease). Janet is also a longstanding member of the Screen Actor's Guild, American Federation of Radio Artists and Actors Equity Association.


FYI: Janet is available to professional actors for private coaching and directing.


Reverend Carroll became an ordained minister in 1988 and delights in officiating at weddings for people in love.